Showcase your work to 100 million viewers on the Premier Web Address for Literary Agents Online!


Writers Showcase

A new resource for published and unpublished authors seeking representation
Click here!
Now you can display your manuscripts, screen plays, poetry, and other works on the most powerful literary website in the industry!
Please inquire about our 'starving artist' rate starting at $50 per year!

"THE FIELD HOUSE"

by: DAVID PRESS


"The Field House" is a murder-mystery with some supernatural elements revolving around a film student who is working for a small town newspaper during his summer break. This young man, Jerem Davis, regards this town and his job as nothing but source material for a screenplay, which is exactly what he gets. A well-regarded local novelist seemingly murders his wife and makes extraordinary claims that the ghost of the house killed her. Jerem, swept up into this investigation finds what seems to be an obvious cry for an insanity plea may not be entirely fictional.
Click here
to learn more
"RELECTIONS OF A MEMORY... BACK TO BACK "

by: MICHEL TYREE


Such titles as "Take My Hand Precious Lord", "The Meeting Place", "Lost Virginity","New Experiences", "When To Let Go", "Homeward Bound", and "First Concert", are chapters found in my first book entitled "REFLECTIONS OF A MEMORY...BACK TO BACK."
Aforementioned are some of the titles that make up a twenty-one-chapter book written about the life and tragic death of a famous singer named Frankie Bell. As a young girl she grows up and faces several unusual and unexpected experiences, challenges, as well as womanhood and heartache. She is admired by most ...loved as a wife... needed as a mother ...and is violently killed by an enemy. After tragedy strikes, however, it is her daughter that reflects the memory of her mother.
Click here
to learn more
Literary Agents and Publishers Showcase
---
School loan debt payments too high?
School Loan Consolidation
click here
Reduce your monthly payments by up to 58%.
Historic rates as low as 1.625%.
There's no credit check or fees.
Consolidate your federal student and parent plus loans! Apply online or call toll-free!
---
We invite you to visit our sister site:




click here!
Your complete resource guide to book publishers!

The LAKE PLACID INSTITUTE for the arts and humanities fosters and sustains arts and cultural activities in the Adirondacks.
click here to learn about their writers seminars and conferences.


---


Guide to Literary Agents
List Price: $23.99 Our Price: $16.79
Put your writing career on the fast track! You need an agent who can get your fiction, nonfiction or screenplay into the hands of the people who can make your dreams come true, and the 2003 Guide to Literary Agents will help you find the right one. Here's all the names, addresses and guidelines you need, including contact information for over 500 literary agencies, 120 conferences and 30 freelance publicists. The book's easy-to-reference icons and indexes help you to quickly, easily and correctly locate the agent best suited to represent your work. Look inside and you'll find samples of actual query letters, guidelines for hiring a freelance publicist, strategies for getting the best agent and more. Special "Insider Reports" provide you with access to the advice and opinions of the people who know how the industry works. You'll also learn more about fees, market research and electronic rights. With more agent listings than any other reference, 2003 Guide to Literary Agents is the right choice that can change your life right now.





Writer's Guide to Book Editors, Publishers, and Literary Agents, Who They Are! What They Want! and how to Win Them Over! List Price: $49.95 Our Price: $39.96 You Save: $9.99 (20%) Readers' Advantage Price: $37.96
This ultimate writer's reference connects you to who's who in the publishing industry. Inside, you'll find the names, addresses, phone numbers, and e-mail and Web addresses for hundreds of top editors and agents, plus essays from industry insiders who reveal the secrets to big-time success. With the most up-to-date information on an industry that's constantly changing, this new edition offers everything you need to get past the slush piles and into the hands of the real players in the publishing field, including how to write attention-grabbing book proposals and thrive off rejection. Now, you hold the keys to getting published. This deluxe edition includes a CD-ROM that contains the entire database of agents and publishers, easily searchable in just a few clicks and able to organize the most important information according to your specific needs. In addition, direct links to helpful writer-related Web sites give you immediate access to the people you need to know!




Children's Writer's and Illustrator's Market: 800 Editors and Art Directors Who Buy Your Writing and Illustrations
Retail Price: $21.99 Our Price: $17.59 You Save: $4.40 (20%)
Your first step to success! Get your stories published with the 2001 Children's Writer's & Illustrator's Market, your one-stop resource for getting your work into the hands of young readers everywhere. You'll find the details you need to make successful contact with book and magazine publishers, plus play publishers, greeting card, puzzle and game companies, each one looking for work from artists and authors just like you. From editors to website addresses, you'll find it all right here. In addition, you'll find guidelines for writing query letters, getting an agent, attending conferences, workshops and more, along with special market listings for young writers and illustrators. Paula Danziger (Amber Brown series), National Book Award-winning novelist Kimberly Willis Holt, Caldecott Honor-winning author/illustrator Dav Pilkey and editors Richard Jackson (Richard Jackson Books), Deborah Brody (Viking), and Stephanie Owens Lurie (Dutton) share their advice as well, which makes the 2001 Children's Writer's & Illustrator's Market the one choice that can change your life right now.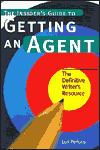 The Insider's Guide to Getting an Agent: The Definitive Writer's Resource
List Price: $16.99 Our Price: $15.29 You Save: $1.70 (10%) Readers' Advantage Price: $14.53
Lori Perkins, a highly successful New York literary agent, gives you the inside scoop on how to get the best representation for your work. Using clear, no-nonsense language, Perkins delivers all the vital information you need.. "Just open this book and see for yourself. The Insider's Guide to Getting an Agent is the ultimate "how-to" guide for publishing success. It's got everything you need to find an agent who can get you published.




To be showcased on the premier web address for LiteraryAgents please contact us:
Email: robgrant@northnet.org

Phone: (518) 891-3745

Mailing Address:

Rob Grant & Associates
43 Broadway
Saranac Lake, NY 12983